Jurisdictional approaches to sustainable development hold tremendous potential for advancing holistic, durable solutions to the intertwined issues of tropical deforestation, rural livelihoods, and food security. With many jurisdictional "experiments" underway around the world, the time is ripe for a systematic assessment.
Earth Innovation Institute (EII), the Center for International Forestry Research (CIFOR), and the Governors' Climate and Forests Task Force (GCF-TF) collaborated on a comprehensive study of these experiments across the Tropics to draw on early lessons. More specifically, the study evaluates progress towards low-emission, sustainable development, including goals and commitments, monitoring and reporting systems, multi-stakeholder governance platforms, and innovative policies and initiatives that are core elements of jurisdictional sustainability. The assessment also includes an in-depth analysis of deforestation and emissions (including drivers and agents of deforestation and forest degradation) and examines the potential implications of low-emission rural development (LED-R) strategies for future emission reductions. It also explores barriers to and opportunities for fostering jurisdictional sustainability.
The report includes analytical briefs about each jurisdiction, as well as an overall synthesis of jurisdictional sustainability across the Tropics. The report was published in September 2018, on the occasion of the Global Climate Action Summit and the Governors' Climate & Forests Task Force Meeting in San Francisco, California.
Watch this presentation, delivered in Dec. 2020 by EII Scientist Claudia Stickler, for the latest findings on progress toward jurisdictional sustainability.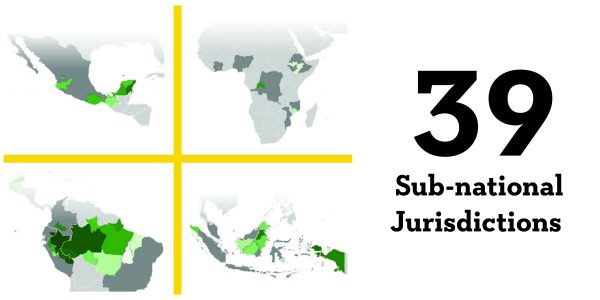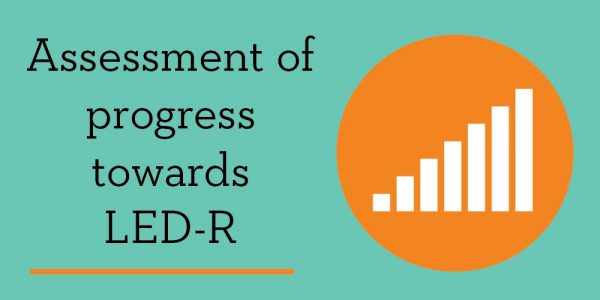 This study focuses on 39 primarily first-level subnational political and administrative divisions (e.g., province, state, etc.) in 12 tropical countries. In 2017-18 we compiled secondary data and conducted interviews with key stakeholders in all jurisdictions on the themes described above. In several jurisdictions, we also implemented the Sustainable Landscapes Rating Tool (SLRT) of the Climate, Community and Biodiversity Alliance to assist in our assessment of jurisdictions' progress towards LED-R.
Click on the region of interest to see the regional profile and a brief documentation of the methods applied
General methods and data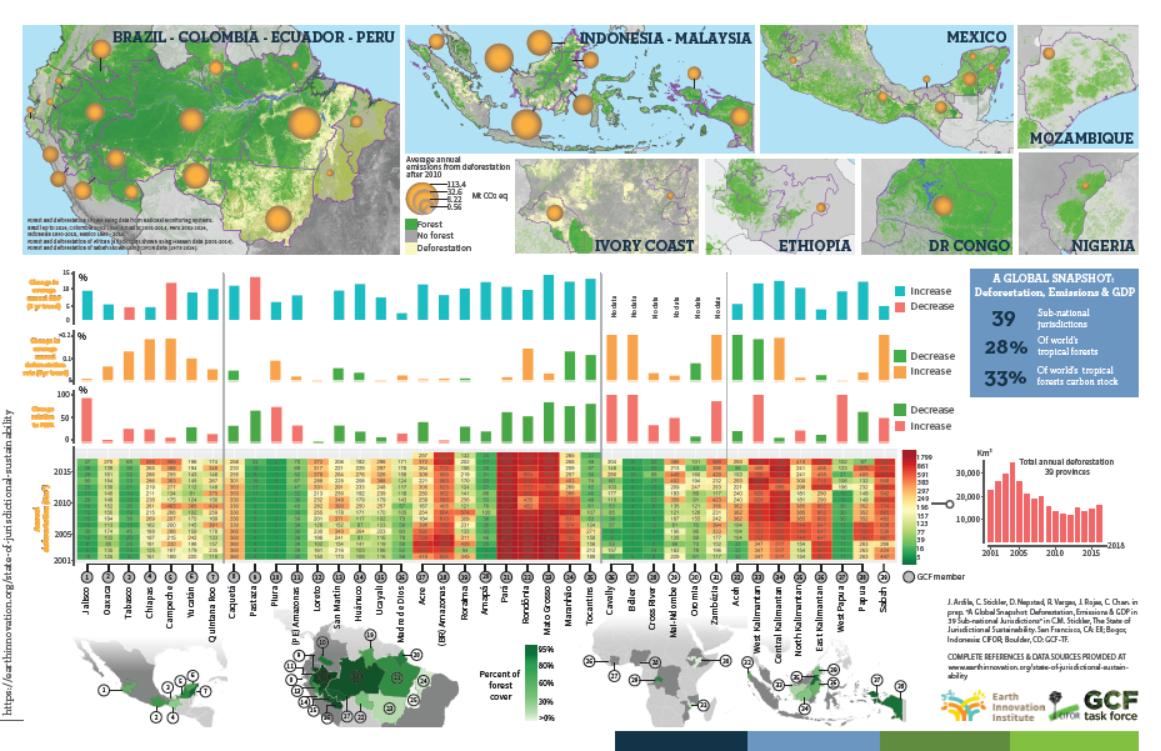 This infographic offers a synthetic view of the spatiotemporal variation of key indicators on forest protection and economic output in 39 tropical jurisdictions. Overall, indicators are presented for the period 2001-2017 and source data is derived from Official National Forest Monitoring Agencies (see methods section for more details). Key documented trends in the jurisdictions are:
Annual deforestation rates (percentage and km2) after 2001.
Percent of forest cover
Potential emissions reductions with 90% Reduction in Deforestation & Zero Net Deforestation by 2030
Average annual emissions from deforestation (Mtons CO2)
Regional and state maps with the latest state of forest cover and deforestation
Change in average annual GDP (5 yr trend)
Change in average annual deforestation (5 yr trend)
Change in deforestation relative to FREL
General methods and data
The State of Jurisdictional Sustainability study emphasizes the critical need of rewarding committed jurisdictions and finding direct investment links to finance transformations and enterprise ventures in aspiring regions. Tropical Forest Champions (TFC) is a strategy that seeks to facilitate this link by promoting the progress of committed jurisdictions and facilitating sustainable investment opportunities with investors and private companies.
Building trust between regions, private sector and surveillance groups requires transparent and reliable information on key indicators documenting jurisdictional progress. The core data section of the TFC platform enables detailed spatio-temporal access to forest, agriculture, economic, and social information of leading tropical regions. TFC also offers entry points to engage and collaborate with regions or identifying specific achievements.