Conference highlights promise of fish in slowing Amazon deforestation
Amid the steady drumbeat of news about deforestation in the Brazilian Amazon there are signs of hope, some of which can come from the most unexpected of places.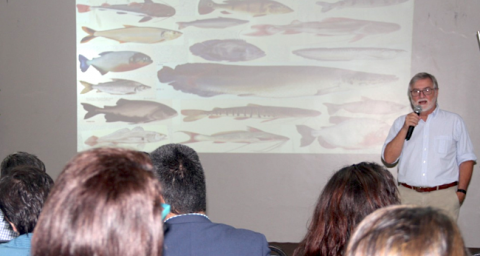 A panel this week led by Earth Innovation Institute (EII) in the state Rondônia, which lies to the west along the border with Bolivia, brought together government officials from across the Amazon with researchers, producers and private sector groups to explore the potential of fish production in boosting regional economies while slowing rates of deforestation.
"This panel is to present and evaluate the current reality and trends," EII Deputy Director David McGrath told the audience. "And from there identify the opportunities for the future potential of fish, both in rivers, lakes and tanks."
Titled, "A fish-based low carbon strategy," the Oct. 25 panel was part of a three-day conference focused on strategies to reduce greenhouse gas emissions resulting from deforestation and to promote sustainable development across the Amazon.
Rondônia has seen some of the highest rates of deforestation in Brazil and was among the states hardest hit by the wave of fires that began in August and are continuing to burn across parts of Brazil. Much of the destruction has been linked to agriculture as local producers look to clear land primarily for cattle.
But data show that fish production – both aquacultue and managed fisheries – can produce an equivalent amount of animal protein as that of beef on 1/32 the amount of land. In addition, the global market for fish is more than double that of beef, with demand rising in both developed and emerging economies.
Such figures have prompted Amazon governments to take a hard look at the promise of fish, including native Amazonian species like pirarucu and tambaqui, as a potentially lucrative export that could also help in efforts to protect forests and other natural resources.
States of Brazil's Amazon have in fact endorsed strategies to expand fish production from both wild fisheries and aquaculture.
Rondônia was Brazil's second largest supplier of fish sold from aquaculture, according to 2017 agricultural census figures. Other regional governments are now hoping to glean insights from Rondônia's experience in developing their own aquaculture industries.
Eliezer de Oliveira, advisor to the Rondônia State Secretariat for Environmental Development, said his government is exploring export opportunities across the Americas and Asia. "We are looking at major world markets," he said at the close of the panel.
"This is beneficial for the world's population and society, but it also impacts the environment," de Oliveira added, noting that aquaculture is an essential component of Rondônia's efforts to identify effective strategies that promise "great economic gains and reduce environmental impacts."